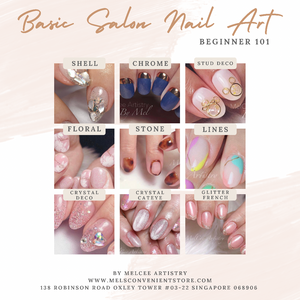 Basic Salon Nail Art Beginner 101
Let's me take you back to the basic where you will be learning 9 different nail art designs that commonly come across. And trust me, watching nail tutorials can be fun & super interesting, exciting but when you sit down and try it. The results don't turn out like the end of those videos, isn't it ? Before exploring the advance nail arts out there, focusing on building your basic art skills is a must. Let's find your signature specialties and make a name for yourself !
 
Class date : Flexible class schedule (1 month advance booking needed), excepts Monday, PH & Chinese New Year season.
Class duration : 5 hours (12pm-5pm or 2pm-7pm)
Class Content:
What you will learn ?
•Shell placements
•Chrome application
•Line arts
•Florals
•Tortoise shell/stone
•Studs decoration
•Crystal decoration
•Glitter French
•Crystal cateye application
Class kit (worth $80)
•x1 Accessories kit (chrome powder, Aurora cloud flake, shells, studs, crystals)
•x1 Art gel in white
•x1 liquid metal gel (random colour)
•x1 liner brush
•x1 tweezer
•x1 Colour mixing palette
*Student will receive in-house Certificate by the end of class.
Class fee: $388 per pax, 2pax sign up together at $370/pax (save $18/pax).
*Note: Beginners/Hobbiers with basic gel nail knowledge are welcome (Must be able to know how to use/handle nail brushes, applying gel colours etc). Please DM or WhatsApp 86992598 for consultation if you are unsure if this class is for you 🥰 
Term&conditions:
All fees paid are strictly non-refundable and non-transferable.
No refunds will be given for unused portions of the fees.
There is

NO expiry date 

Student is entitle to Three (3) times reschedule of classes (from the first initial class schedule) that subject to Educator's availabilities.
MelCee Artistry deserves all rights to amend the Term&Conditions at anytime.