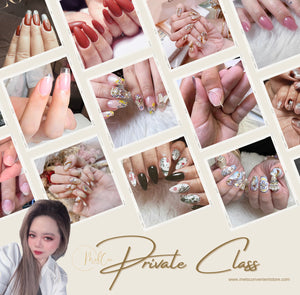 One-to-one Private Nail Class Perks :
Class Materials will be provided for use during class. In-house certificate will be given upon requested by student if needed.
How to Book One-to-one Private class ?
Select to purchase the hours that you need (Check suggestions below for reference).

Complete payment at check out.

Whatsapp +65 8699 2598 with your Name and Booking Number to check Educator availabilities (There is no expiry date for this class, please read T&Cs below for more info).

Feel free to consult with Educator directly to decide on the topics you wish to learn/upgrade.
Class duration recommendations:
•Basic gel nail foundation (from scratch) : min 5hrs.
•Cuticle care & nail shaping : min 5hrs.
•Eflie & pot gel/bottle gel application : min 4hrs.
•Sculpture Gel/Half-tip Extension : min 4hrs.
•Art classes : min 3hrs.
•Skills brush up/improvements (for experience nailists who wish to improve their skill) : min 4hrs.
Can't find any topic you wish to learn ? DM us on Instagram @melceeartistry for a Free consultant ☺️
How does Complimentary Learning Hour works ?
Complimentary Learning Hour is meant for learning/upgrading skill purposes. Meaning if you book 10 hours private class you will entitle to TWO (2) extra hours. Total you have credit of TWELVE (12) hours for learning/upgrading your skills.
How does FOC Complimentary hour for utilising Studio Facilities work ?
For example if you book 12 hours private class, besides getting extra leaning hours. You will also entitle to use our Manicure table or Pedicure chair to do services or practicing as well as utilising our in-house Nail Materials for FREE within the period given according to your complimentary hour (Base on your FOC Hour of Facilities usage).
Term&conditions:
All fees paid are strictly non-refundable and non-transferable.
No refunds will be given for unused portions of the fees.
There is

NO expiry date

for the hours of Private Class.
Student is entitle to Three (3) times reschedule of classes (from the first initial class schedule) that subject to Educator's availabilities.

Min 3 days

notice is required for rescheduling of class, any last min/on the same day of MIA or without valid reasons for rescheduling. 3 hours of lesson will be automatically deducted.
Complimentary Hours & FOC Studio Facilities Usage is STRICTLY NON TRANSFERRABLE.
FOC Studio Facilities Usage is STRICTLY by advance booking subject to Studio availabilities with first come first serve basis.
MelCee Artistry deserves all rights to amend the Term&Conditions at anytime.