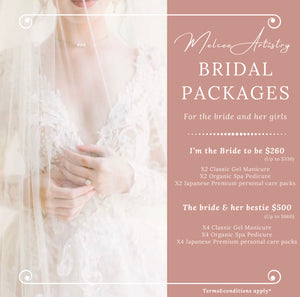 MelCee Artistry Bridal package
I'm the Bride to be - $260 (Up to $330)
x2 Classic Gel Mani
x2 Organic SPA Classic Pedicure
x2 Complimentary Premium personal nail kits
The Bride & her Bestie - $500 (Up to $660)
x4 Classic Gel Mani
x4 Organic SPA Classic Pedicure
x4 Complimentary Premium personal nail kits
Terms & Condition:
No refund once purchase
No exchanging of credit purchase to cash
No transferring of credit to another account
1. "I'm the bride to be" Package can be utilised by one person over two sessions (eg for the bride's photoshoot and actual day) or by two people in one session (eg for the bride and her sister/mom for the wedding).
2. "The bride & her bestie" Package must be utilised in one session by four people.
3. Any changes to appointment date/time must be made at least three days in advance, or penalties of up to 50% of the package value will be applied.For no-show or requests for appointment changes made only on the day of the appointment, there will be no refund and the package will be forfeited.
4. Package prices are not inclusive of any additional services like nail art, extensions or soak off removal. These can be added on and paid for on the actual day, but MUST be indicated at the time of booking so that enough time can be set aside for the appointment.